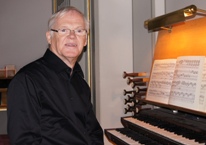 Born 1941-07-29 in Hobro, Denmark.
Educated at The Royal Danish Academy of Music; Copenhagen:
1967 Organists´ degree (at Henning Riiser)
1969 Choir conducting degree (at Jørgen Berg)

Adwarded a scholarship for advanced studies:
1972 Studies in Lund, Sweden (at organist and composer Bedrich Janácek)
1973 Studies in Stockholm, Sweden (at composer Ingvar Lidholm and
Cathedral organist Gotthard Arnér)
Study tours to London 1978 (choir) and Wienna 1980 (organ).

Membership of Professional Societies:
1967 Danish Organist- and Precentors Association
1974 KODA
1988 Danish Composers Society

Assigned scolarship:
The Fund of Krista & Viggo Petersen, 1972
The Fund of Johan Otto Wroblewski 1992
The Foundation of Ludvig Preetzmann-Aggerholm and wife.
(The State of Denmarks scholarship residence in Paris)
Performances:
Denmark, The Faroe Islands, Iceland, Greenland, Norway, Sweden, Finland, Latvia, Russia, Ukraine Netherlands, Ireland, Belgium, England, Germany, Polen, Czech Republic, Hungary, Bulgaria, Austria, Italy, France, Spain, Israel, USA, Argentina, Uruguay, New Zealand, South Africa
Radio-/and Television performances:
Denmark, Finland, Sweden, Czech Republic, Bulgaria, Italy.
Node-releases:
Edition Egtved (Edition Wilhelm Hansen) from 1974
Cantando Musikkforlag, Stavanger, Norway from 2005
Forlaget Mixtur, Esbjerg, DK from 2012
Cd- recording:
OH Musik Aps 1993
Paula Records 1997, 2004, 2009
2me printemps de l´orgue á Saint-Antoine-des-Quinze-Vingts, Paris 2011 etc.
Honors and Awards:
1973-1997 President of "Amager Music Festival", Copenhagen, of which he is one of the founding members, member of the board to 2012
1984-2000 Member of The Society of Danish Organists and Precentors / Gramex.
Member of the jury for The International Comnpetition  for Blind and Visually Impaired Musicians in Mariánské Lázne 1988,-91,-94,-97 and Prag 2000 and 2003, Czech Republic.
2004 Member of the jury for The International "Marcello Galanti" Organ Competition in Rimini, Italy.
First Prize-winner in an International Composer Competition, Mariánské Lázne, The Czech Republic
("Ode to light" for a cappella choir 1985).
1990 Orchestral work accept for The Composer Competition for new fountain music commissioned by West Bohemian Symphony Orchestra and the health resort Mariánské Lázne.
("Piece for Flütes and Strings, Fountain music to Mariánské Lázne.
Carreer:
Leif Martinussen carries on the tradition from music written by Carl Nielsen and Vagn Holmboe.
Furthermore he has taken inspiration from Norwegian and French music with great examples as Edvard Grieg, Maurice Duruflé and Olivier Messiaen.
He has been involved in international music life as a judge during competitions abroad and in Danish music life in organizational work as well.
His works includes orchestral works. Works for ensemble playing, organ and organ with trumpets.
Choir, Hymns, Liturgical music, songs, piano etc.
Educational activities:
1971-80 Værløse Municipal Music School (piano) and
1980-96 Tårnby Municipal Music School
Organist employment:
1970-2012 Allehelgens Kirke / All Saints Church, Copenhagen